IQ Options is a financial services provider founded in 2013 in Cyprus. IQ Options Europe Ltd owns and manages this trading platform. IQ Options comes under CySEC (the Cyprus Securities Exchange Commission) jurisdiction. 
Over the years, this company has grown from a narrow-profile platform for trading binary options into a large trading and investment platform with an impressive range of alternative services for making an online profit. 
IQ Option has a CIF (Cypriot Investment Firm) license #247/14 that allows clients from the EEA (European Economic Area) to use its services. This online trading platform is considered to be available for everyone because of the low minimum deposit requirement - 10$ and special free demo account. 
How regulated? What reputation it has?
The high quality of the services and reliability allowed IQ Options to win a lot of prestigious awards. As a result, nowadays this trading platform takes the leading place among brokers in its field. Traders can use IQ Options without any doubts because the Cyprus Securities Commission (CySEC) regulates IQ Option Europe holding company, which includes the IQ Option trading platform.
It also means that the Markets in Financial Instruments Directive (MiFID) is a compliant broker for IQ Options. That is why the platform provides its financial services for clients of the European Economic Area. One more thing that makes IQ Options reliable is that it is a member of the Investors Compensation Scheme. This scheme protects clients' funds. The maximum amount is 20 000 Euros. 
For traders that are not included in EEA works another scheme. Their personal accounts are under the IQ Option Ltd (sister company) regulation. This company is Seychelles based and is under the Seychelles Financial Services Authority (FSA) regulation.
Main features and detailed information
Trading platforms
IQ Option is designed in that way to cover all the traders' needs. The platform can be also used for binary options trading, as well as CFDs. The interface is rather friendly and comfortable even for beginners. There is a large chart for monitoring the market situation. IQ Option also possesses different advanced tools for trading:
MACD;
Moving averages;
RSI;
Bollinger Bands.
There is a "position top-up" feature which gives a trader an opportunity to hold a trade if it is near the stop-loss. Traders are proposed with new variants of risk management and the strategy of trading options.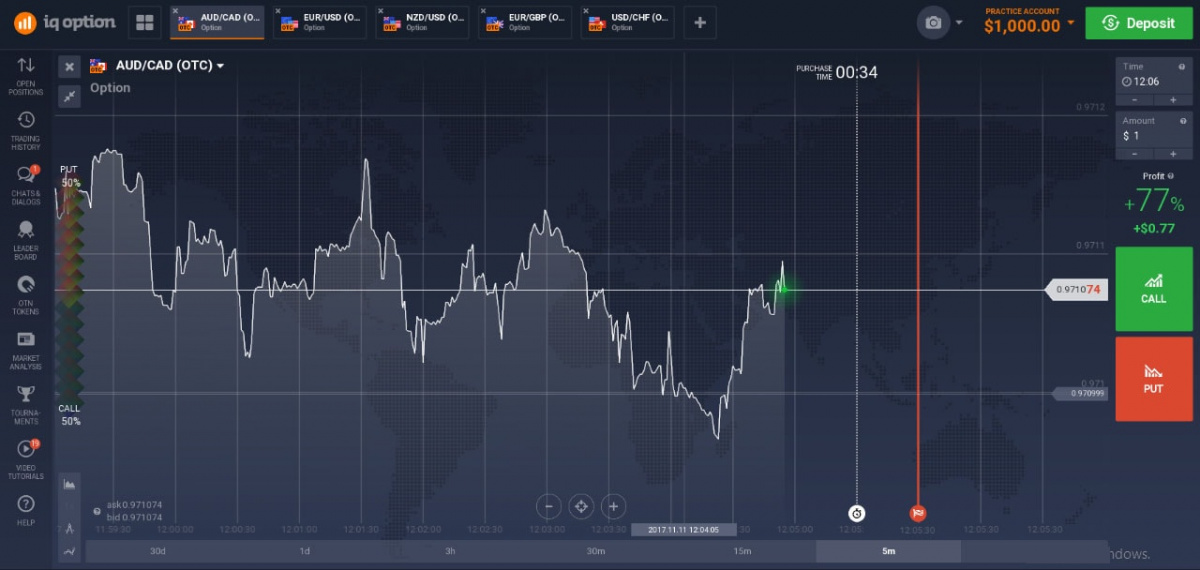 Mobile trading
Stay tuned about all the current trading news and check your account with IQ Option free mobile app. Download it from the official website, AppStore, or Play Market.  
Offered trading accounts, promos, and bonuses. Technical (customer) support 
IQ Option provides clients with 3 types of trading accounts:
The minimum required deposit - 10$. Allows being a participant of the weekly trading competitions.
The minimum required deposit - 1900$ (trading volume should be 15000$). Allows being a participant of the weekly trading competitions. Also, VIP account gives 3% extra profit, personal assistant and free trading promo participation. 
Requires no "pre-deposit", allows free registration, and gives the pre-loaded amount of 1000$ for practicing trades. 
Video Demo, Forex Introduction
IQ Option does not give any deposit bonuses. The only variant of a promo offer for traders is a competition with free entrance. The prize is varied from 100$ to 100 000$.
The trading platform has a high-quality department of multilingual customer support which can solve any traders' problems. It works 24/7. Traders can contact the dept via live chat, email, and telephone.
IQ Options offers several ways to transfer the funds. Among them are:
e-wallet (Skrill, Neteller, WebMoney, Perfect Money);
credit card (Visa, Maestro, MasterCard);
bank wire transfer.
For withdrawal, traders can use the same methods as with deposit making. Usually, it takes one business day to cover withdrawal requests. Sometimes it takes a few hours if the operation was made with the help of e-wallet.  For credit cards and bank transfers, it could take up to 10 business days. 
Due to the growing popularity of trading around the world, IQ Options has developed its services for Asian countries. Now a bank wire transfer is available from China (China Union Pay), Philippines (Help2Pay) and other countries of the world (Argentina, Brazil, India).
IQ Option Assets, FX Options, Cryptocurrency Multiple
Nowadays traders are able to trade in more than 90 basic assets. They consist of:
Choosing of currency pair;
Stocks;
Commodities;
Market Indices. 
Moreover, now traders can use 12 types of cryptocurrency because they all are added on the site. A platform updates all the time. For instance, it has added a list of more than 150 stocks. Wait for more expansion in other sections of IQ Option. It has developed its market across different valuable products (Gold, Silver, Oil, Digital Assets, etc.). 
Each product has its own prize and it is changeable. That is why minimum trade size could be 20$, and binary option 30$ (GBP, Euros).
FX Options is absolutely new product on the trading market. Nowadays it is available only in 5 currencies. This FX option is presented on the EU market and offers investment with fixed risk. The concept is the same as with binary options. For each FX Option, there is a payout deadline. The potential payout directly depends on the price of the basic asset. For trades, there is a minimum - 30$. It can be sold before the expiry. 
It is the best choice for EU traders to deal with fixed risk trades. Later, IQ Option will develop the market and the expiry times (now it is only 1 hour max.).  
One more innovative product from IQ Option is cryptocurrency Multiple. It works as leveraged trades. It makes prices of basic assets go up. The idea was first presented with Bitcoin x 100. The prices has grown in 100 times, which gave more opportunities and risks for traders. Ethereum, IOTA, Ripple have been added to the cryptocurrency list after Bitcoin's successful launch. In addition, the multiple indexes differ from x20 and x50 to x100. Nowadays, this option is available for traders who are not included in the EU.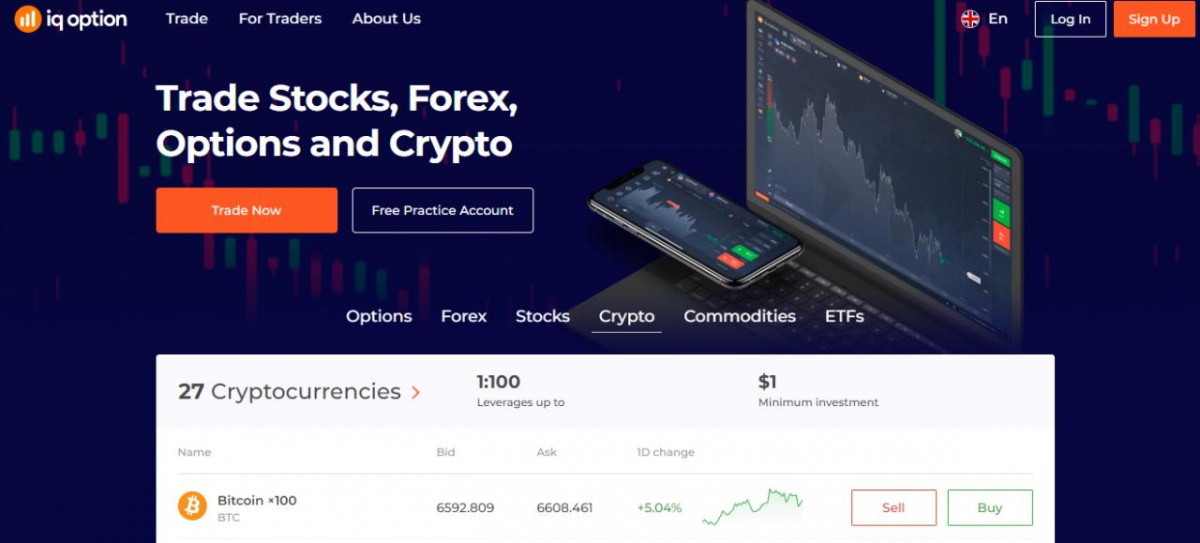 Costs and fees
Fees and costs are transparent at IQ Option. To see the cost of trading, you should take into consideration the following:
Swap fees - these are fees that are held during the night. They are applied for positions. Charges may vary from 0,1% to 0,5% and can get higher if the positions will be held on a weekend.
Spreads - sell and buy difference. It depends on liquidity, a period of time, and volatility. 
Withdrawal fees - for bank wire transfer there is a withdrawal commission 31$. 
Dormant Account Fees - a charge which is applied after 90 days of non-activity account. Each month it will withdraw 10 Euro from the account.
Commission - 2,9% commission charged (depends on cryptocurrency trade)
The proposed CFD function from IQ Option allows traders to trade day and night. That is why IQ Option gained a reputation for being well-regulated and appropriate for day trading. Besides, this platform is a high roller on the trading market. 
Among the cons of IQ Option: there is no opportunity to trade for users from the USA, Russian Federation, Japan, Italy, Spain, Australia, Germany, Canada, Israel, Belgium, Turkey. 
However, such countries as the UK, France, UAE, Thailand, South Africa, India, Sweden, Norway, Luxemburg and other has access to the IQ Option financial services.