Plus500 is a trading platform, founded in 2008. Nowadays it is considered one of the most powerful, and effective online CFD (Contract for Difference ) platforms. The company works with the following directions: ETF, Forex, assets, exchange goods, and market indexes.
The Main Market of the London Stock Exchange (LON:PLUS) has registered Plus500, which is a member of Plus500Ltd. The company is a Club Atletico official sponsor from 2016. 
Regulation
According to traders' feedback, Plus500 is a reliable platform. Being a member of the Main Market of the London Stock Exchange adds more credibility and confidence to the reputation. It is also considered to be stable in terms of finance. Plus500 financial platform is regulated by a range of agencies:
Derivatives issuer license in New Zealand, FSP #.486026;
Plus500UK Ltd (FRN 509909);
Plus500AU Pty Ltd (AFSL # 417727) — Australia provider;
Plus500CY Ltd (Licence No. 250/14) — the Cyprus Securities and Exchange Commission;
Plus500AU Pty Ltd (FSP 47546) - South Africa provider.
Plus500 is a company that updates its work every day. That is why this platform is about innovations, safe, and secure conditions for its clients. Besides, Plus500 provides more than 2000 tools for successful and comfortable trading.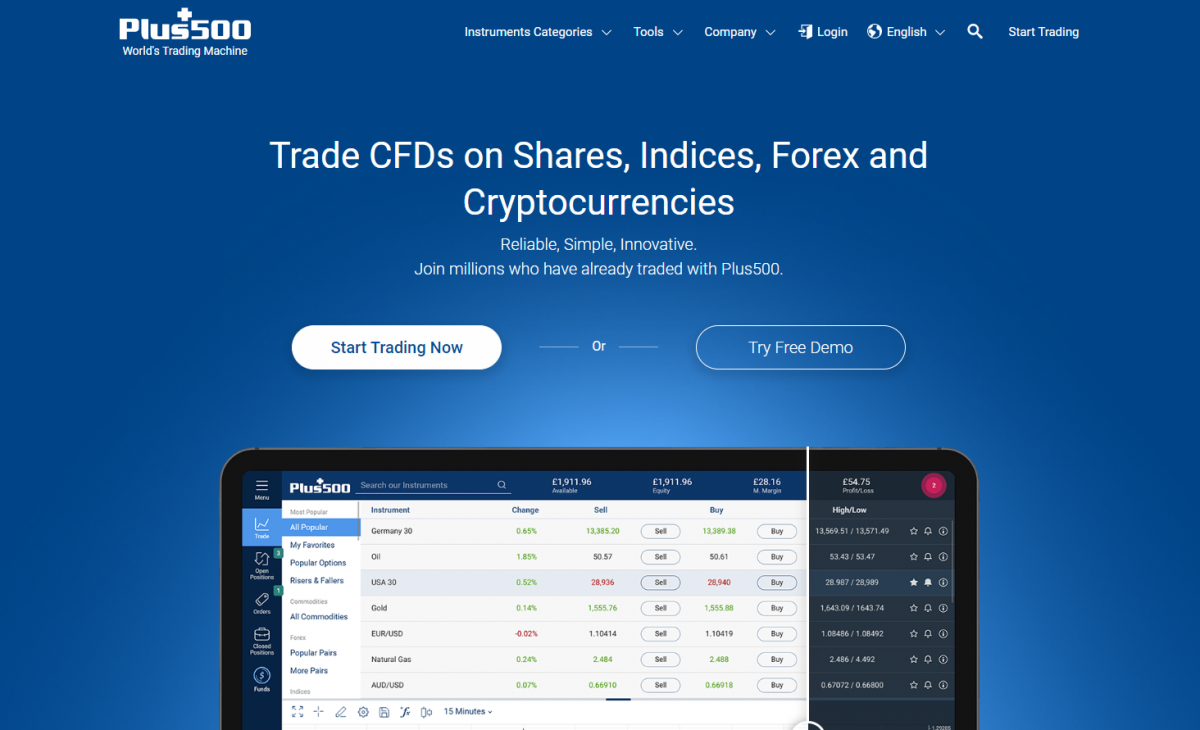 Is Plus500 a reliable company?
The platform takes a leading place on the market for 5 years. During this time it has gained the loyalty and trust of many experienced traders as well as beginners. 
Plus500 company provides clients with the following guarantees: 
a platform does not invest its clients' money;
a platform uses only segregated bank account for keeping clients' investments (following the rules of the Financial Supervision Authority);
a platform does not transfer client funds to counterparties for hedging transactions;
a platform does not hold any speculative operations on the market;
a platform does not connect with the corporate or national debt.

Mobile trading
As "innovations" is a synonym to Plus500 financial platform, so the app for Android and iOS is an obvious and necessary adaptation for modern and busy people. The iOS app is a perfect decision for doing trading operations on the iPhone, iPad, and even iWatch. Also, the Android app is stable and supports multiple devices.

Trading account
Plus500 offers only 2 types of account for traders:
Real money account;
Demo account.
The process of opening an account is quite simple and does not take much time. You just need to click on "Create Account". Then you will appear on the registration page.
Usually, beginners are proposed to go through the demo account to understand the principles of trading, analyzing the market and assets, etc. 
As soon as you select a training mode for your account, you will be on the registration page. Then you need to enter accurate information. After that, your task is to click "Create Account". If you need any help in the process of opening a trading account, then click "Live Chat" to bring up a chat pop-up window. As soon as you confirm the data correctness and click "Create Account", you will see the trading screen. If you have a desire to conduct transactions with real money, then select the "Real money" mode from the menu on the left side of the trading screen.
Spreads and commissions
In the process of picking the best broker, traders pay attention to the transaction cost. Cost is divided into 2 categories: commissions and spreads. Plus500 has no commissions while trading. Instead, traders should pay a small spread in asset transactions. The list below shows the usual Minimum spreads of the Plus500 platform (Note: dynamic spreads).
TOOLS — SPREADS
Gold (XAU) 0.03%
EUR / USD 0.01%
GBP / USD 0.01%
EUR / GBP 0.03%
UK 100 0.01%
ASX 200 0.01%
FDAX 0.01%
USO Oil Fund (ETF) 0.29%
Oil Brent 0.04%
Wheat 0.25%
Deposit & Withdrawal
The platform supports such payment methods:
Skrill;
Neteller;
Bank wire transfer;
Paypal;
Visa/MasterCard/Maestro.
The process withdrawal is also simple. Usually, the processing request takes from 1 to 3 days. Then depending on the chosen method, you will get your money. If you have chosen a bank wire transfer, it will take up to 5 business days. If it is an e-wallet, then you will wait for 3 to 7 days. 
The minimum deposit in Plus500 is 100$.
Customer support
Plus500 is a client-oriented platform. That is why traders are allowed to contact customer support via email or live chat. There are 32 offered languages for communication. 
Conclusion
Plus500 is a leading broker with an understandable website interface, operative, and qualified customer support. The platform provides a wide range of tools for trading which each trader will appreciate. As the company is in the listing on the Main Market of the London Stock Exchange, it has a reputation of being reliable among traders around the world.