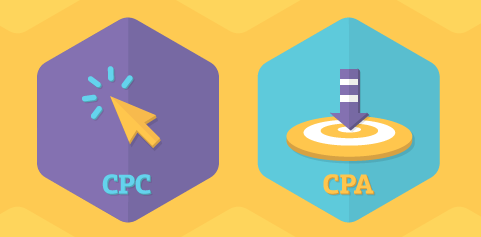 Even though your involvement in digital marketing could be limited, you probably heard about correct advertising metrics which improves campaign optimization as well as its success. 
Each advertising report includes various acronyms, pixels, percentages, sizes. In general, it is everything without a benchmark for real success. 
Nevertheless, the main metrics of your digital success are objectives, product, and service.
If you are going to start your first advertising campaign, you will need to be aware of metrics efficiency.
It will help you to measure your current progress and level of success. 
There are two helpful metrics for this aim: CPA (Cost-per-action) and CPC (Cost-per-click). To understand better pros and cons of each criterion, let's examine them closely.
CPA
Cost-per-action, or also could be named as cost-per-acquisition, is a digital advertising metric model in which the advertiser pays for the user's action on his site. CPA is essential in terms of online advertising success measurement because it maintains the investment which is needed to obtain the customer through paid marketing.
With the help of the CPA, it is possible to evaluate the level of performance on the website visitors' basis doing a particular action that you can define at the beginning of the campaign.   
The kind of action could be various: purchase a product/service, sign-up for a newsletter, download a specific document or other.
Keep in mind that the CPA is a perfect metric for companies that don't directly sell services or products on their website. 
CPA is defined by separating the digital advertising spend by how many conversions/sales appeared. 
There does not exist a one-size-fits-all benchmark in online marketing for defining "good" Cost-per-action.
Each brand, company has its margins, prices, and operating expenses. The most crucial factor for defining a targeted CPA is a general understanding of the above-mentioned factors, allowing a business to calculate their expenses for acquiring the customers.
CPA advantages:
Ability to evaluate a specific action taking by customer.

Optimize perfect site engagement with an intended action.

Control of tracking through various marketing channels.

Guarantee that you invest in the highly effective channels of different marketing efforts.


 
CPA disadvantages:
Sometimes could generate low engagement even having a lot of ads and generate a great number of clicks.

For highly-valued services and the product, you will need to have higher budgets. 

CPA is comfortable in case you understand how much a particular customer`s action is worth to the business.

As you are involved in optimizing and studying campaigns, CPA is able to calculate across the objectives as well as channels. 
CPC
It is one of the universal online advertising metrics which measures the total cost for one click on a channel or campaign level.
Cost-per-click means that an advertiser pays each time when one ad is clicked. In other words, the advertiser pays for customers who visit the site. 
CPC is calculated by dividing the digital marketing expenses on the number of clicks. 
Like any other metric, the cost for a click will differ a lot. More competitive business sectors and sectors with expensive conversions (such as dating, financial, legal services as well as products like industrial equipment or enterprise software) usually cost more per click.
CPC advantages:
Advertising is displayed for your target audience at the beginning of the funnel type acquisition.

The early indicator in case your online ad strategy is intersecting with the incidence.

The perfect model of the metric if you have extra objectives, such as time spent on the site + number of visited web pages, because CPC could help to bring new positive and essential changes. 
CPC disadvantages:
Can generate really low website traffic, because your strategy or message doesn't resonate with the TA (target audience).

It is suitable for advertisers who are making a top-of-funnel type of acquisition on the contrary to the search for the further down-funnel engagement.

Will differ a lot across strategy and channels. 
In general, you can choose any of the two digital advertising metrics. However, mixed attribution allows taking into account views as well as clicks while measuring your digital ads campaign success. This click advertising model saves the click-based attribution simplicity and also takes into account the total effect of view. Besides, it takes into account that viewing advertisements directly influences consumer behavior.