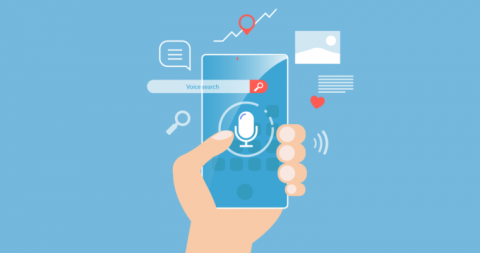 Siri, Alisa, Maroussia, Oleg - everyone knows these voice assistants. Someone just makes jokes during a conversation with them, someone really asks about the weather and sets the necessary commands. However, besides the obvious features, these voice "guys" can help with site optimization.  
When do we use voice requests?
If we talk about Siri, then such a virtual voice assistant is equipped with artificial intelligence and is installed on all Apple products. This helper can manage the search on the installed gadget. For example, it will help you find the nearest cafe or google information on reviews of the movie "Once Upon a Time in Hollywood".
Alisa, for example, will find the exact cost of the headphones for you on the Internet or even help you arrange them. There is a function of booking tickets or a table in a restaurant. The functions of voice search engines are growing exponentially every day.
What are the features of using a voice search?
Quick response. Everyone wants to get an answer as soon as possible using a search engine. A voice search engine will save time doubly since there is no need to type the text, but you can simply dictate it quickly and voila - the product/service/information is found.
Local data. Usually, when a person from Warsaw is looking for a product/service, such as headphones, he/she wants the voice search to search on this exact territory, and not in Germany or Portugal. In this case, do not forget to turn on geolocation.
Language. Despite slang, jargon and other phrases, now voice search works on the basis of colloquial speech. It is worth considering this when implementing such a function.
How to adapt your site to voice search?
1. Speed ​​up the site
One of the most important factors for ranking in Google is the speed of loading your site. Since voice search is usually done on the way and in order to save time, it's more profitable and easier for voice assistants to find fast sites for you.
To make the site appear in voice search, do several actions to speed up the site:
configure caching (with the help of OpCashe, xCashe);
to optimize queries, configure indexes (or you can try to delete the database that is not used);
optimize image sizes (for example, by using TinyPNG);
you can use AMP to ensure fast loading of the site even at an overall low network speed.
2. Response Blocks (Featured Snippets)
These are quick answers to queries that are displayed by the search engine (Google, Yandex) in the zero position and show the URL of the line and the name. These snippets will become your lifesaver for SEO-optimization of the site when using voice search engines.
If there is too much text, the "read further" button will be displayed and the search engine will link to your site, which will also have a very positive effect on the overall traffic of the site.
3. FAQ`s (how to configure the "Frequently Asked Questions" block)
Quite often, people ask precisely the questions in the voice search engine and if he sees that your question is in the "Frequently Asked Questions" block, then your site will be displayed in the search bar.
How to configure this issue:
You do not need to put an answer for one question on a whole page, it is better succinctly, but fully answer the question and immediately place the next one under it.
Lists, tables, charts, headings - all means are used to attract and retain the user. Plus, this will help search engines display your site in the zero results.
Follow the trends and recommendations of search engines. They will help optimize your site and content on it.
4. Mobile optimization
Since most of the requests come from smartphones, it is logical that you need to optimize the site for them. This is very important, pay maximum attention to this aspect.
5. Collect long-tail query
Many users still formulate queries using ordinary, everyday conversation. Therefore, it is important to correctly select the semantic core when optimizing the site. Usually, voice requests are longer than text requests, so low-frequency requests are your must-have.
In order to configure the site for low frequencies, you can use special services for the analysis of keywords. For example, the program Serpstat.
6. Structure data
All site data can be structured with the help of shema.org service
You can enter this data:
1. By using the Shema plugin for WordPress CMS
2. Manually (if you have HTML skills)
3. Use the Google Markup Wizard for structured data
7. Local Search Optimization
Make sure that all the info is available on the site: contacts, address, phone, tag in Google Maps. Once again, it will help the voice search engine bring your site to zero results line in Google/Yandex for your specific location.