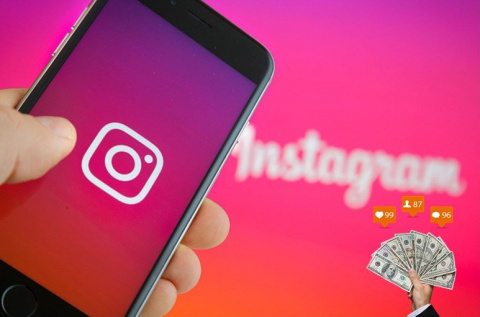 There are no people left in the world who did not hear about Instagram. It is one of the most popular and fastest-growing social networks in the world. It all started with photos, without any informative texts and specific purpose. However, as time goes on, the Instagram platform has been greatly upgraded. Now it's not just an online gallery of photos taken on the sea. It is rather a place where you can sell and buy things or services. This is a place where you can represent yourself, become an influencer, and make money.
This social network has gathered a multi-million audience. Moreover, where is the audience, there is traffic arbitration. It's a sin not to take advantage of this privilege, and start making traffic. The main things are:
To choose an affiliate program you can trust;
Create an advertising company that will hook on the target audience (TA).
Arbitration of traffic on Instagram is the redirection of active users of a certain profile (account) to the advertiser's site for fixed fee.
How to direct traffic?
There are several ways to drive traffic. Some are free, some will have to pay a little money.
Free ways to attract:
Such methods are good because they do not require investment. However, you will spend a lot of time on this.
Paid ways to attract:
Buying traffic on different sites (you will earn on the difference).
It is also worth remembering the rules for using Instagram. Everything is pretty strict. Therefore, you can only place a link to the advertiser's website from your profile. Otherwise, you can fly to the block.
The fastest way to direct traffic
Mass liking!
This method helps to pour traffic quickly by putting likes on photos of all TA users.
Another effective way is mass following. To do this, just follow all the Instagram profiles that fall under the targeted audience (potential buyers).
Advantages of traffic arbitration on the Instagram platform
What are the advantages of arbitrage via Instagram?
Getting traffic at no cost (or at minimal one);
Large coverage of the audience (potential customers);
You can use a marketing tool such as a hashtag (which automatically gives a guarantee that the post will be seen. The main thing is to pick up the relevant hashtag).
Effective ways to arbitrate traffic on Instagram
Now let's take a closer look at the best traffic arbitrage methods:
Buy the ads placement post in the feed (or any another group);
Go to exchange websites and buy ads there;
Buy advertising posts from opinion leaders (influencers);
Develop a personal account and use it as a platform for targeted advertising, for subscriptions, comments, and likes. Everything to attract traffic;
Buy advertising on Instagram and manage it through the Facebook platform.
The main question: how to make money on arbitration through Instagram?
1. Choose an offer that is in great demand on the Internet
To combine the offer and profile on Instagram, you need a little basic knowledge and try many options before you find the very relevant and most profitable one. The more unique a product/service is, the more likely it is to reach a large part of potential customers and receive regular orders (and, accordingly, stable high earnings). You always need to find a way to attract an audience with something fresh, original. Stand on the client's place and analyze the product that you are advertising or for which you are creating an advertising campaign. This should be a high-quality product or service, with a list of useful features. Reliable manufacturers who can talk about their product/service "from and to" are trusted and popular.
Choose a reliable affiliate program. See the list of products offered. For example, CPA (cost per action) is a model of advertising payment for a specific action. Pay attention to offers where there are clear conditions for the transaction: an algorithm of actions, a fixed amount, and how you can get a reward. Choose the most popular product based on frequently asked queries in a search engine. Such requests can be tracked in Wordstat.
2. Create an Instagram profile for a specific offer
It's much better not to create from scratch, but to buy an already untwisted, ready-made profile that is linked to Facebook, and email.
3. Buy a proxy server
Proxies allow you to replace the IP address. It will be needed to recognize the action that was allegedly performed by real people, and not a program.
4. Make "delicious" content
Now buyers are more demanding than ever before. Content also needs to be worked on. Qualitative photos and videos will help to give the main impetus to the arbitration of traffic. To massively fill accounts you need to use special software (due to a large number of materials and to get a lot of traffic).
5. Insert the link in the line of the site and earn money
Do not forget to analyze the advertising campaign and make adjustments. Arbitration of traffic through any platform blows patience, strength, and constant control.
The Instagram platform has a powerful user base and is, therefore, an ideal place for arbitrage traffic and make money. The main thing is to practice making actual posts, the correct hashtags and understand how the software works.